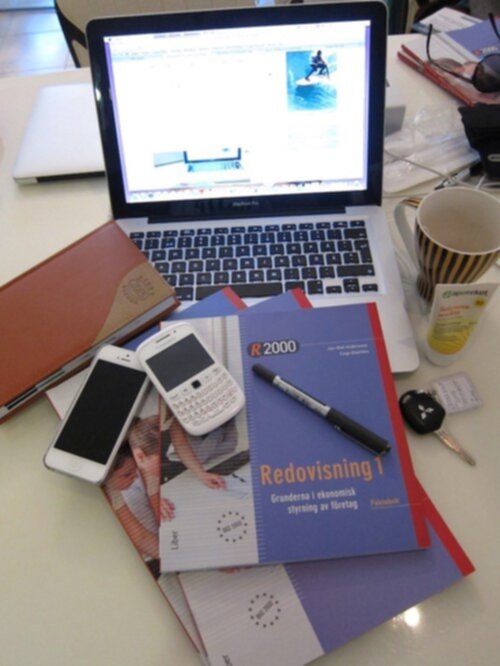 Hejsan,
Idag har jag ledigt och i morgon börjar arbetsveckan igen. Innan vi flyttade hit började jag fundera på att plugga redovisning på distans. Sagt och gjort anmälde jag mig till en distanskurs som började i måndags. Tydligen har jag gått från att vara den som var hemma först efter jobbet och alltid lagade middag och såg till att tvättmaskinen hade gått minst en runda, till att komma hem sist, inte orka laga mat och på min lediga dag inte kunna roa sig utan plugga… Jag har blivit den personen som jag inte skulle kunde tänka mig att bli. Jag pratar om personen som jobbar övertid och på sin lediga tid inte kunna ta dagen som den kommer då man måste planera för att kunna klara provet nästa vecka. Nu får ni inte tro att detta inlägget är något "tycka synd om mig själv inlägg", utan det är mer en förklaring hur saker och ting har förändrats utan att man riktigt hängde med själv. Jag längtar dock tills jag får laga mat igen och känna mig hemma i ett riktigt kök. Jag är lite gammeldags i mitt tänkande och är gärna den som står vid spisen och har maten klar när "familjen" kommer hem. Dock är jag gärna den moderna "hemmafrun" som jobbar, men som kommer hem först och ser till att alla runt mig har det bra i hemmet. Nu ska jag läsa redovisning i 20 veckor och mitt fokus är på den dagen efter slutprovet då jag klarat kursen. Känslan som infinner sig när man får sitt betyg och när det är över… befriande! Måste ända säga att jag har alltid imponeras av den här personen som är driven och vill utvecklas och ta sig fram i livet. Det har varit lite av mina förebilder som inspirerar mig att en dag ska minsann jag också…. Hihi, ska nog skriva en egen autograf till mig själv idag och se upp till mig själv för att jag verkligen driver mig framåt i utveckling på alla plan just nu.
Puss och kram
Hi there,
Before we moved here I started thinking about to take an accounting distance course. So I signed up to this course and it started last Monday. Apparently, I've gone from being the one who was home after work and always cooked dinner and made sure that the washing machine had passed at least one round, to be the person that come home latest, not in a mood too cook and on my day off I study instead of having fun… I have become the person I would not think of to be. I'm talking about the person who works overtime and during days given off can't take the day as it comes because planning is needed in order to pass the test next week. This is not a "feeling sorry for myself" post, but it's more an explanation of how things for me are changing, without me noticing the change. However, I'm looking forward to the day I get to cook food again and when I can feel at home in a real kitchen. I'm a bit old-fashioned in my thinking. I'm happy to be standing at the stove and have food ready when the "family" comes home. At the same time I want to be the modern "housewife" who do have a job, but anyway comes home first and makes sure that everyone are doing well. Now I will study accounting in 20 weeks and my focus right now is on the day when I have passed the course. The feeling that comes when you get your grade and you know it's over is… revealing!
Yet, I have to say that I have always been impressed driven people that wants develop themselves and get ahead in life. They have been my role models that inspires me to say to myself: One day I will be like them. Hihi, I should probably write myself an autograph, and look up to myself today because right now lots of things in my life are really pushing me forward.
Hugs and kisses